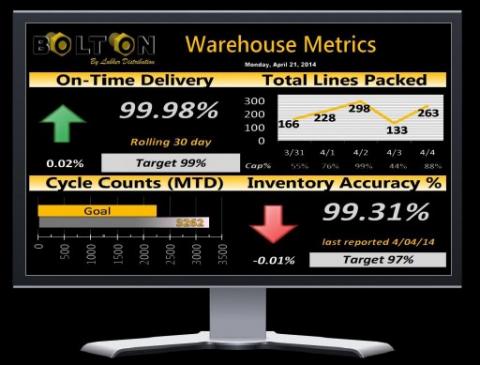 (West Chester, PA) October 2013, Lubker Distribution Information Systems Department, in pursuit of continual improvement processing excellence, announces the successful custom development and implementation of the 'BOLT-ON' comprehensive data management optimization suite. This proprietary suite of software enhanced products provides Lubker the advantage when accuracy, on-time delivery, and conformance to product specifications are critical. In tandem with barcode wireless technologies, the BOLT-ON suite of products help drive decision making direct to the distribution floor, eliminates 'reports', provides operating clarity at all levels, manages by exception, offers real-time metrics, and eliminates all processing 'blind spots'. Every transaction and product movement is 'live' and uniquely displayed on strategically located large screen monitors.
'BOLT-ON' management suite, developed by Lubker, providing the operational staff with the information necessary to complete their assignments accurately and on-time, every time.

(West Chester, PA) February 2013, Lubker Distribution Operations Department, in pursuit of continual improvement processing excellence, announces the successful implementation of a comprehensive warehouse management system. The 'paperless and wireless' barcode solution provides benefits including
Increased accuracy of inventory (currently exceeding 99%)
Increased order picking and packing accuracy
Reduction in customer returns
Improved customer service levels
Real time product availability
100% lot specific traceability
Improved warehouse space utilization
Rapid order processing (Order entry to ship 'ready' in under five minutes)
Improved facility organization
100% visibility during the complete order flow process
Improved planning and decision making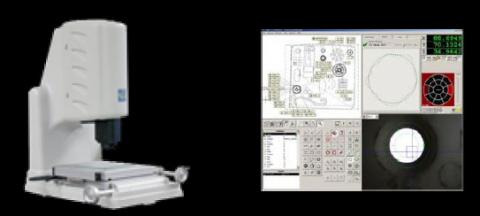 (West Chester, PA) May 2012, Lubker Distribution Quality Assurance Department announces the receipt and installation of a Micro-Vu Sol precision Measurement system. Believed to be the first installation in a US fastener distribution facility, the Micro-Vu System provides Lubker with a versatile solution for precision part inspection. The Sol significantly reduces inspection times and increases inspection capabilities. The Sol features one micron resolution scales and InSpec Metrology Software for Manual Vision Systems. InSpec Metrology Software includes automated edge detection, automated focus detection, geometric dimensioning and tolerancing, and reporting. Programmable lighting makes features stand out. When features are accentuated, they are easier to measure and results are more repeatable. The programmable 6:1 zoom make small features conspicuous and simple to measure. The Sol replaces the popular Vector machine.
Image Capture Capabilities
Multiple Edge Detection Tools
Focus Detection Tool for Precice Z Measurements
Automated 6.5x Zoom Lens
Programmable Multi-Sector LED Surface Ring Light
Collimated LED Profile Light (Back Light)
Programmable LED Coax Light (Through the Lens)
Precision Linear Bearings
160 x 160 x 160 mm Stage Capacity
Onscreen Scale, Grid, and Crosshair